Retour d'expérience 'TFS Online dans une solution industrielle'
Posted on 2016-10-08
frenSome days ago, I had the chance to present a session in the Microsoft Experiences of Paris (in french) to explain how we've created a complete industrial application using VSTS (Visual Studio Team Services… or TFS Online).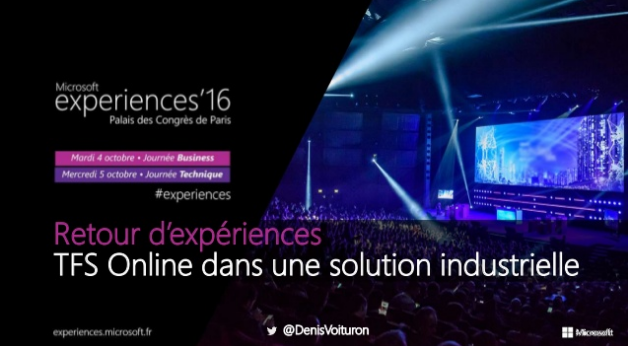 In this presentation, I've explain how we've create a project for a aeronautic company:
The Workforce management web portal can plan, distribute, manage times, validate data and generate reports or send data to external systems.
We used the Agile Scrum methodology:

Definition of the Team (Product owner, Developers team,  Scrum master) Creation of this team in VSTS.
Creation of the Product Backlog using Features, User Stories and Tasks in VSTS.
Review and planning of Sprints.
Development with Visual Studio connected to VSTS.
Installation of Build and Deployment (Release Management) modules.

I've also presented some tools and frameworks used technically in this project:

To develop the BackEnd services
To develop the FrontEnd services
To tests all blocks
You can download the slides show on SlideShare.net.
Let me a comment if you need more details.